Meet MR3 Health
MR3 Health is a dynamic new company bringing an innovative combination of service and proven technology to patients and insurers to save lives affected by diabetic neuropathy and lower the costs of healthcare. Although we are a new company, MR3 Health is uniquely positioned for success with a number of resources unknown to most start-ups. These include existing patents, an FDA cleared medical device supported by clinical trials, and a management team with a wealth of business, manufacturing and medical experience.
Texas, US
http://mr3health.com/
Why MR3 Health?
Every 30 seconds worldwide someone with diabetes suffers an amputation. Diabetic neuropathy leads to nerve damage and loss of sensation in the sole of the foot while inflammation leads to undetected pressure ulcers. In the U.S., about 80 percent of lower limb amputations started off as a diabetic foot ulcer.
Without early detection and treatment, ulcers become infected frequently leading to full or partial amputation of the foot or lower limb.
According to the American Diabetes Association, approximately 700,000 diabetics in the U.S. will experience a foot ulcer annually. While approximately 73,000 diabetics will experience a lower extremity amputation annually. Medical claims for these procedures will total $3.7 billion.
Most significantly, the life expectancy of a diabetic amputee is less than five years.
MR3 offers a solution?
We provide a monitoring service to save insurance companies significant costs related to the recurrence of diabetic foot ulcers, which may ultimately lead to amputation,  in the following ways:
Structured service that enables insurances to provide quality care and achieve substantial savings.
Dedicated algorithm that provides timely feedback for providers. Monitor + Report +  Respond + Remediate = MR3. 
Proprietary methodology & device which enables diabetic patients to self monitor foot temperature daily.
Clinically recognized solution developed by leading researchers in the industry.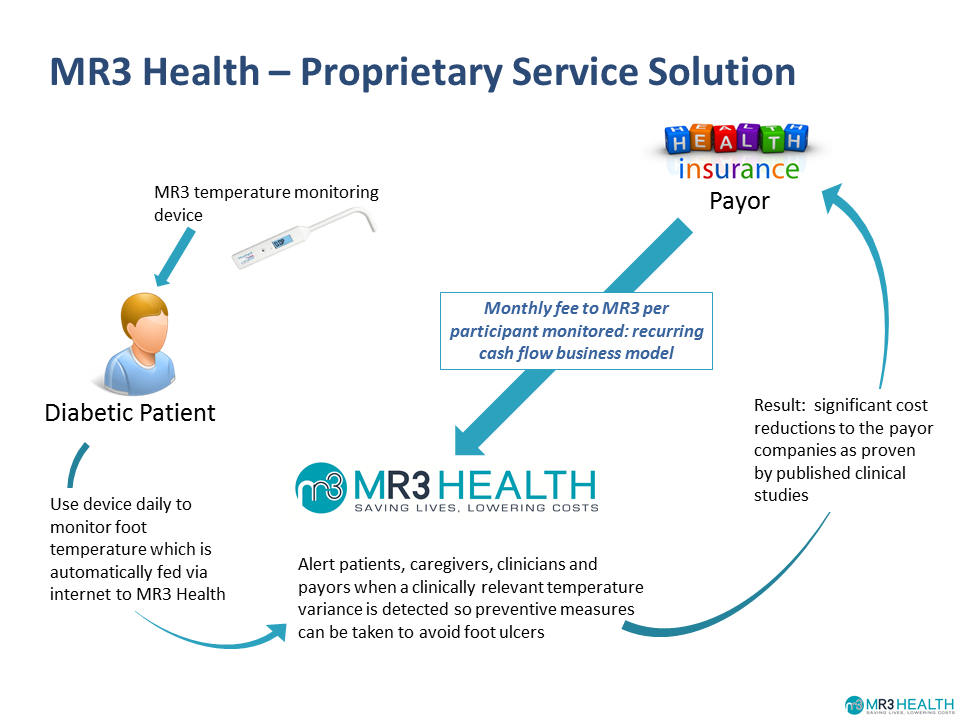 MR3 Health provides a service solution which incorporates an infrared dermal temperature monitoring device designed specifically to help prevent diabetic foot ulcers. Individuals who use our device daily, as it was intended, experience significant reduction in foot ulcers (see testimonials). MR3 partners with insurance providers and clinical provicers to help their patients maintain their daily monitoring and achieve these results. As the Chief Medical Officer of one large health insurer recently put it, "MR3's service replaces what is missing in patients with diabetic neuropathy- real-time daily feedback about the status of their feet when the sensation of pain is missing."
Follow the MR3 Health Journey